UNESCO-listed Bordeaux – 2h30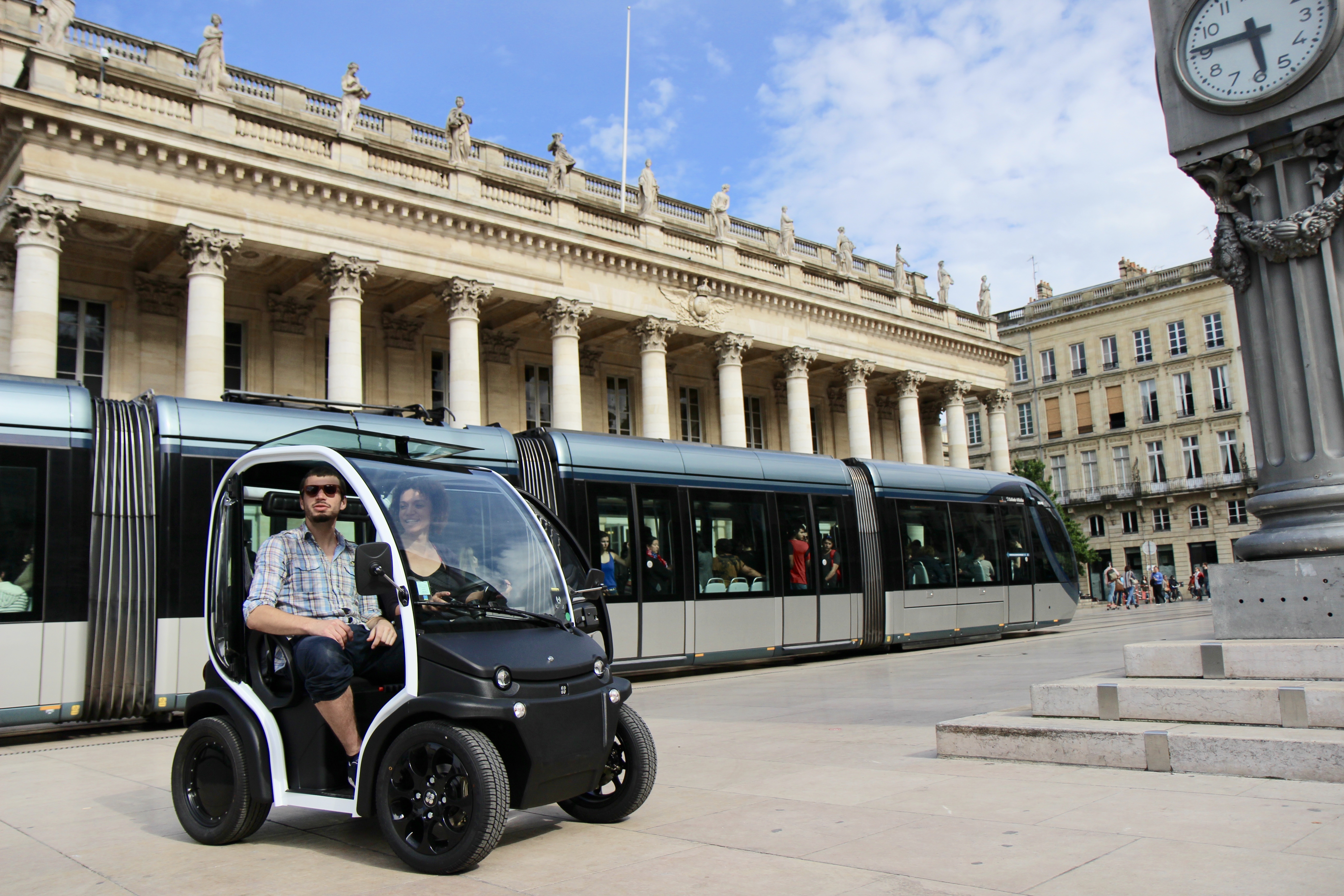 Visit UNESCO-listed Bordeaux at your own rhythm! At the wheel of your electric vehicle equipped with a GPS tablet-guide, discover the city's most beautiful monuments but also the contemporary Bordeaux and the right bank of the river.

Explore Bordeaux, from the Quinconces square to the Grand Théâtre, from the Triangle d'Or to the Place de la Bourse square, through the Cailhau gate and the Grosse Cloche bell. Admire the facades of the 18th-century quays, the famous Chartrons wine merchant district, the Right Bank and its unique view on the "Port de la Lune", but also the lively squares and side streets of old Bordeaux where only this small electric vehicle can take you. You will also see the contemporary Bordeaux with the Chaban-Delmas bridge, the Court of Justice, the spectacular French Magistrate School and of course the new "Cité du Vin" wine museum.

Your electric vehicle is equipped with a storytelling multimedia tablet-guide. Its GPS will accompany you throughout this 15-kilometer tour so you don't get lost in the side streets. Take your time! You are free to stop as and when you please.

Bring along some friends or your family for an even more enjoyable experience. You can book several vehicles and thanks to the "flotilla" mode, your vehicles can be connected and their position indicated on the tablet-guide.
More Bordeaux Tours
Bordeaux Must-Sees - 1h30
Book It

€33.00
At the wheel of an electric vehicle equipped with a GPS tablet guide with a 360° panoramic view discover Bordeaux must-see monuments at your own pace !Drive past the Grand Théâtre, the Place des Quinconces, the Girondins Monument, the Place de la Bourse with its 'Miroir d'Eau', the Porte Cailhau, the Palais Rohan, the Pont…
Bordeaux Extensive - 3h30
Book It

€55.00
At the wheel of an electric vehicle equipped with a GPS tablet-guide, you will explore Bordeaux Unesco's most beautiful monuments, the right bank and the side streets of Old Bordeaux, but also its lively student and ethnic neighborhoods.Discover the Grand Théâtre, the Place de la Bourse with its 'Miroir d'Eau', the Quinconces Square, the Girondins…
Médoc Express Discovery - 2h30
Book It

€59.00
At at the wheel of your buggy equipped with a GPS tablet-guide, enjoy a getaway in the Médoc vineyards! Drive along charming small roads that follow the banks of the Gironde Estuary and admire the numerous charterhouses, former holiday homes. Your convertible buggy, equipped with a multimedia tablet-guide, is a storytelling vehicle that offers quality commentaries all along…