Historic Downtown, Seaside Adventure, Porto Wine Lodges & City Park Matosinhos – 4h Explorer Tour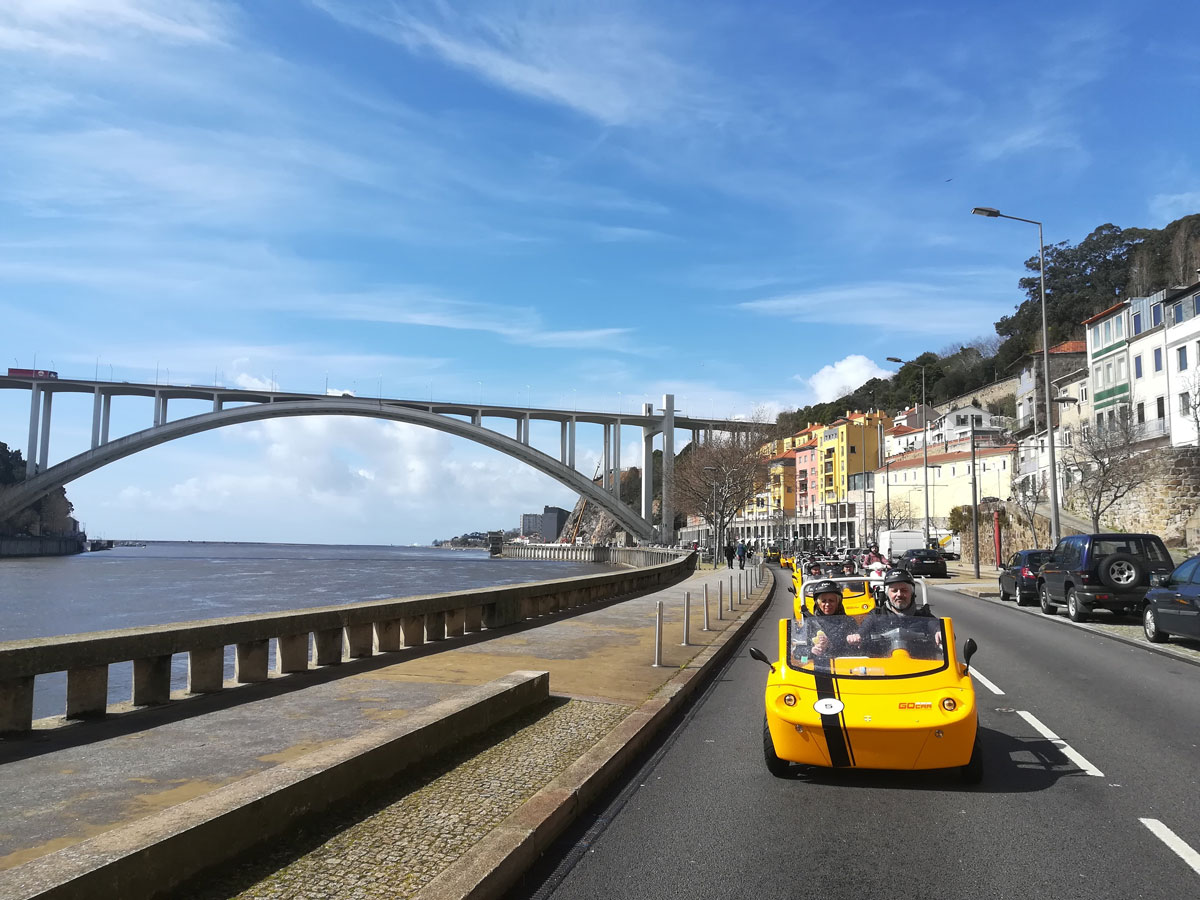 The GoCar prepared a tour essential for anyone who is passionate about enjoying and appreciating all the highlights of the city, while get enough time to park and visit one of the most striking urban parks in the whole Europe.
After some riding, it feels great to stretch your legs and contemplate the rich flora and the vast diversity of fauna of the park. The park also extends to the seafront, where you can take the flyover path to the beach and café area! Later, after an exciting tour through Porto's seafront, there is nothing more rewarding than tasting a delicious port at a historic wine lodge or enjoying a nice expresso including the ever-popular pastéis de nata
All along this tour have many great spots to stop and take photos, eat, drink, relax and truly experience Porto and its neighboring cities.
Tour Highlights:
· Stock Exchange Palace
· Ferreira Borges Market
· São Bento Railway Station
· Porto Cathedral
· Coliseum of Porto
· Santa Catarina Street
· Avenue of the Allies
· Carmo and Carmelitas Churches
· Clérigos Tower
· Lello Bookshop
· Crystal Palace Gardens
· Concert Hall (Casa da Música)
· Cheese Castel
· City Park
· Felgueiras Lighthouse
· Arrábida Bridge
· Dom Luís I Bridge
What's Included:
· Briefing
· Helmets
Above is only a suggested route. Your tour's length may vary due to circumstances such as departure time and location, traffic and your itinerary. If you do take additional rental time, this will be billed in 15-minute increments at our retail rates. You may visit all or some the tour's highlights. If you are unsure of which tour to book, just book according to the amount of time you think you'd like to spend. We can customize a tour especially for you, with the sights you want to include, when you come into our shop.
More Porto Tours
I Want it All! - All Day Tour
Book It

€105.00
Do You Want It All? Do You Want Something To Never Forget? Then, GoCar have prepared especially for you a tour that includes all the options available for a special price. You get to keep the car all day from when we open to when we close. Just have the car back by the close…
Happy Hour – 2h Tour for the price of 1
Book It

€35.00
This tour will let you keep the GoCar for 1 or 2 hours for only €30,00 just as long as you bring it back to our store by 17h30 at the latest! Normally, renting a GoCar for just 1h would cost €35,00.Enjoy Porto happy hour allweek long! A special offer to add some excitement to…
EARLY BIRD - 2h Tour for the price of 1
Book It

€35.00
SAVE UP TO 35 €. The EARLY BIRD 1/2 DAY SPECIAL requires the vehicle be returned to the departure location by 12:00 PM.All for the price of 2 hours in a GoCar.Let GoCar take you off the beaten path through the heart of the medieval old city, passingby the city's former stock exchange, the Palácio…