2HR Go – Ride Electric PHAT scooter – Fisherman's Wharf and Golden Gate Bridge Loop + Presidio (2HR tour for 1 person)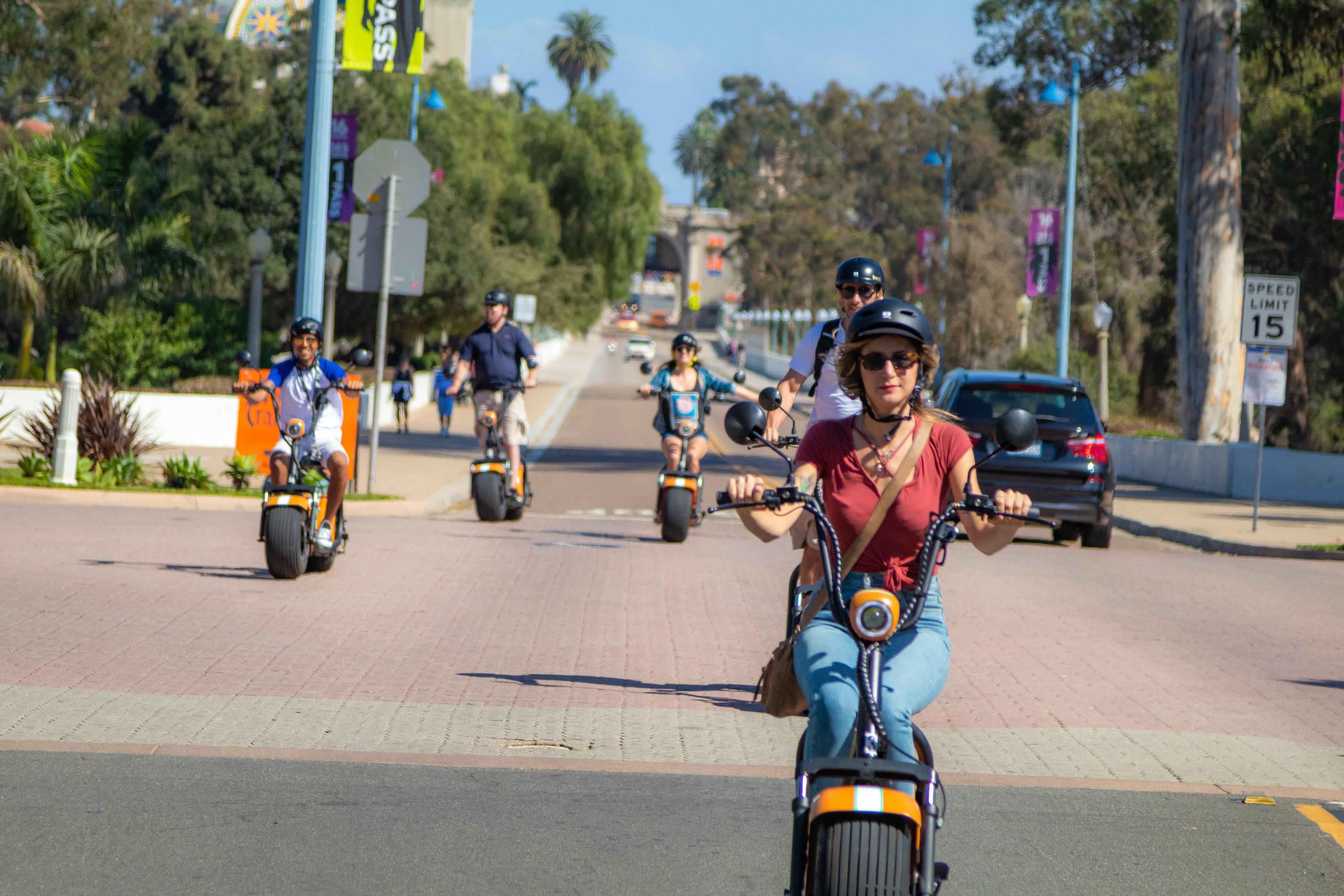 The GoRide is the latest addition to the GoCar fleet. Let the GoRide Electric PHAT Scooter take you off the beaten path through many of San Francisco's iconic parks like the Presidio and Crissy Field on the way to the Golden Gate Bridge and back. Snap amazing photos along the Pacific Ocean and see the Golden Gate Bridge up close from above and below. You can park stroll along the span of the bridge if you choose. On the way back, explore the boutique shopping districts of Chestnut and Union Street and stop for a bite to eat. Finish your tour where tour buses can't by winding your way up Russian Hill to take an exhilarating ride down the Crooked Street (Lombard St). This tour is approximately two hours drive time at a slow pace and has several fun, informative detours and stop options along the way.


Golden Gate Bridge and Back Tour Highlights:
Fisherman's Wharf
Ghirardelli Square
Fort Mason
Crissy Field
Fort Point
Golden Gate Bridge
Lombard "Crookedest Street"
Above is only a suggested route. You may visit all or some the tour's highlights. Your tour's length may vary due to circumstances such as departure time and location, traffic and your itinerary. If you do take additional rental time, this will be billed in 1-minute increments at our retail rates.

More San Francisco Tours
GoCar Alcatraz Combo - All Day Adventure Package - 2 Alcatraz Tickets plus 2 Hour GoCar Tour
Book It

$248.73
For almost 30 years Alcatraz was once home to some of America's most notorious criminals including Al Capone, Robert Franklin Stroud (better known as the Birdman of Alcatraz), George "Machine Gun" Kelly and James "whitey" Bulger, to name a few. The federal penitentiary operated on the island from 1934 to 1963 . To this day,…
2hr. GoCar + Scooter 3-Person Special Tour
Book It

$206.00
This tour is available from our Fishermans Wharf Location Only for 1 GoCar and 1 GoRide Scooter.Let GoCar and GoRide take you off the beaten path through many of San Francisco's iconic parks like the Presidio and Crissy Field on the way to the Golden Gate Bridge and back. Snap some amazing photos along the…
Full Day "Choose-Your-Own-Adventure" Tour (up to 8 hrs for the price of 5)
Book It

$245.00
**OUR BEST VALUE - SAVE UP TO $234** on an ALL DAY TOUR for the price of 5 hours. Experience all of the options of the GoCar tour at a flat rate for the entire day! Just have the car back by the close of business and enjoyable that San Francisco has to offer!Explore at…