City Center, Porto Wine Lodges & Lapa – 2h Old Town Tour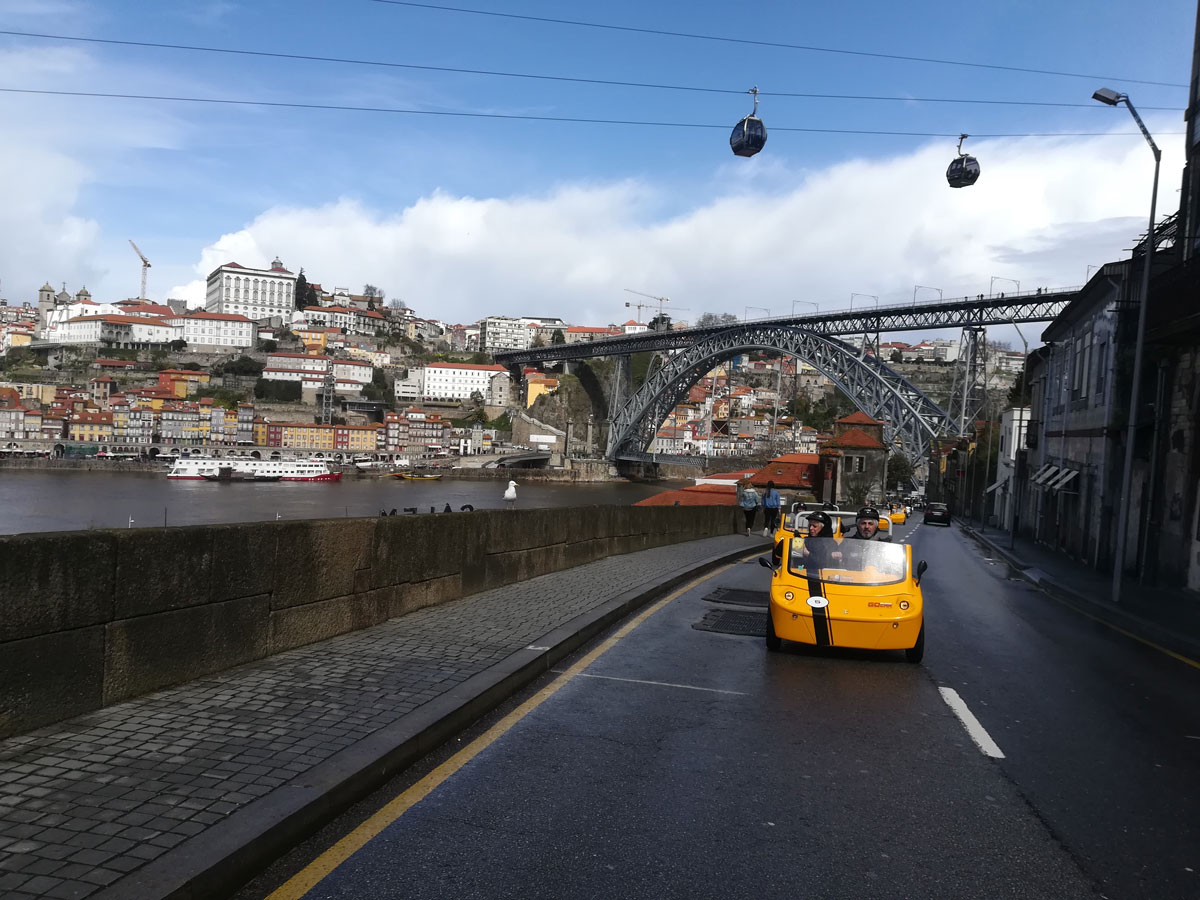 Be prepared not just for an unforgettable tour through
Porto's historical center, with beautiful buildings adorned with tiles, cobbled
streets, and a landscape that has a vintage and romantic charm to it, but also
to take a tour to Gaia and sample the delicious port at historic wine lodges,
some of which date back hundreds of years. You can try several styles of Port,
including red, white, rosé and an aged style called Tawny Port. The GoCar will
guide you through many spots of breathtaking beauty and historical interest,
such as the Ponte
De Dom Luís I, the São Bento Train Station, and the Monastery of Serra do
Pilar, where you will know why Porto is
often called 'The Venice of Portugal' and why both cities are a unique
destination to spend quality time and enjoy the holidays with your family.
Tour Highlights:

· Stock Exchange Palace
· Ferreira Borges Market
· São Bento Railway Station
· Porto Cathedral
· Coliseum of Porto
· Santa Catarina Street
· Avenue of the Allies
· Bolhão Market
· Carmo and Carmelitas Churches
· Clérigos Tower
· Lello Bookshop
· Dom Luís I Bridge
· Gaia's riverfront (Cais de Gaia)
· Monastery of Serra do Pilar
What's Included:

· Briefing
· Helmets
Above is only a suggested route. Your tour's length may vary due to circumstances such as departure time and location, traffic and your itinerary. If you do take additional rental time, this will be billed in 15-minute increments at our retail rates. You may visit all or some the tour's highlights. If you are unsure of which tour to book, just book according to the amount of time you think you'd like to spend. We can customize a tour especially for you, with the sights you want to include, when you come into our shop.

More Porto Tours
I Want it All! - All Day Tour
Book It

€105.00
Do You Want It All? Do You Want Something To Never Forget? Then, GoCar have prepared especially for you a tour that includes all the options available for a special price. You get to keep the car all day from when we open to when we close. Just have the car back by the close…
Happy Hour – 2h Tour for the price of 1
Book It

€35.00
This tour will let you keep the GoCar for 1 or 2 hours for only €30,00 just as long as you bring it back to our store by 17h30 at the latest! Normally, renting a GoCar for just 1h would cost €35,00.Enjoy Porto happy hour allweek long! A special offer to add some excitement to…
EARLY BIRD - 2h Tour for the price of 1
Book It

€35.00
SAVE UP TO 35 €. The EARLY BIRD 1/2 DAY SPECIAL requires the vehicle be returned to the departure location by 12:00 PM.All for the price of 2 hours in a GoCar.Let GoCar take you off the beaten path through the heart of the medieval old city, passingby the city's former stock exchange, the Palácio…