GoCar Alcatraz Combo – All Day Adventure Package – 2 Alcatraz Tickets plus 2 Hour GoCar Tour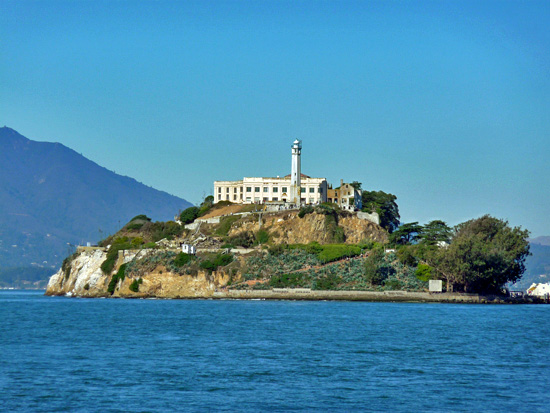 For almost 30 years Alcatraz was once home to some of America's most notorious criminals including Al Capone, Robert Franklin Stroud (better known as the Birdman of Alcatraz), George "Machine Gun" Kelly and James "whitey" Bulger, to name a few. The federal penitentiary operated on the island from 1934 to 1963 . To this day, Alcatraz is best known as one of the world's most legendary prisons.
This combo deal includes 2 tickets to Alcatraz Island. They include boat trip over to the island and a multilingual audio tour with a wealth of stories to be learned about the prison and island. Civil War-era buildings dotting the island give insight into the 19th century when the island served as both a harbor defense fort and a military prison. You can also see visible reminders of the American Indian Occupation that started in 1969 after the prison closed, highlighting an important milestone in the American Indian rights movement.
The Alcatraz portion of the tour will be in the morning and can be completed in anywhere from 2 to 4 hours. Exact sailing time will be confirmed after booking is accepted and when Alcatraz Cruises has released the ferry tickets with assigned departure time. Note that the boat departure time may vary, but is generally in the morning, and can depart as early as 9:30 am. Final confirmation of departure time will be provided by GoCar Tours after your initial booking.
The 2-hour multilingual GoCar tour departs from our Fisherman's Wharf location in the afternoon. In 2 hours you'll get to drive along the waterfront, through historic Crissy Field and the Presidio on your way to the Golden Gate Bridge, where you will see spectacular views of the Marin headlands. Other highlights along the tour are the Palace of fine arts, Legion of Honor, Baker Beach, East Beach, the Marina district, Russian hill and "the most crooked street in the world", Lombard Street.
More San Francisco Tours
2hr. GoCar + Scooter 3-Person Special Tour
Book It

$206.00
This tour is available from our Fishermans Wharf Location Only for 1 GoCar and 1 GoRide Scooter.Let GoCar and GoRide take you off the beaten path through many of San Francisco's iconic parks like the Presidio and Crissy Field on the way to the Golden Gate Bridge and back. Snap some amazing photos along the…
Full Day "Choose-Your-Own-Adventure" Tour (up to 8 hrs for the price of 5)
Book It

$245.00
**OUR BEST VALUE - SAVE UP TO $234** on an ALL DAY TOUR for the price of 5 hours. Experience all of the options of the GoCar tour at a flat rate for the entire day! Just have the car back by the close of business and enjoyable that San Francisco has to offer!Explore at…
Wake Early : Save Big! Early Bird Tour
Book It

$116.00
SAVE UP TO $50. The EARLY BIRD 1/2 DAY SPECIAL requires the vehicle be returned to the departure location by 12:00 PM. Upgrades to the GoCar Tablet are available on a first come first serve basis for an additional $10. The GoCar Tablet has a Tablet GPS guide.Let GoCar take you off the beaten path through…